Balancing Friends and Macros: How to Enjoy Lunch Out With a Friend While Still Hitting Your Nutritional Goals
Several months from now I will be in Manchester England competing for the world championship against other masters in the cycling discipline of track. I know to be competitive I will have to spend hours in the gym and a crazy amount of time on the bike. But to make all of this work, I have to stay focused, just as hard in the kitchen.
Nutrition is the fuel that keeps me going. I have to make sure my meals have the right balance of protein, fats, and carbohydrates in order for me to make it through intense training sessions and still be able to recover quickly.
But how do I stay on track when all my friends want to go out to lunch?
When it comes to balancing friends and macros, my number one advice is to plan ahead. Knowing what your daily macro goals are for the day will make it easier for you to look at the menu and pick out a healthy option that works for you. It's also good to talk to your friend beforehand so they know what you are trying to accomplish and can help pick a spot that will have something for both of you.
When it comes time to order, focus on lean proteins like grilled chicken or fish and opt for low-carb sides such as a salad or steamed vegetables instead of heavier items like fries. If the restaurant doesn't offer enough choices, don't be afraid to ask the waiter for items that are not on the menu but can still help you stick with your macro goals.
Finally, remember that it is OK to indulge from time-to-time. Balance out a higher carb or fat meal by eating lighter meals throughout the rest of the day. But let's go back to the planning, that is where I am at right now.
Well it actually began at 0345 this morning when i was up and starting my day. I pulled out my phone and opened Macro Factor, my preferred tracking app, and started today's entries.
First, I logged my vitamins and supplements, my standard first 2g of fat and 13g of carbs. Now my first decision is, do I have my morning yogurt with a little honey. Nope, let's table that for now. Should I have my morning 30g protein shake, yes. I take in almost 255g of protein in a day, so I need to start off my protein timing early.
What am I going to have for dinner? Well it's going to be Factor_ meal. I had already decided on Monday which meal that was going to be tonight, so I logged the Green Chile Shredded Chicken Thighs into the app, 34g P, 26g F, and 47g C.
I also have already planned on having my Strawberry Protein Ice Cream tonight, so log that too. 219 calories, 32g P, 3g F, and 11g C.
What else will I have today? Well i will have a protein shake after the gym, 42g P, 4g F, and 9g of C and a Celsius drink at work, 2g C. I have a Wattbike test when I get home, so i will hit the protein after that, 30g P, 2F, and 9g C.
Now I know my budget for lunch. I had emailed Tim and said I needed a macro friendly restaurant, so we agreed upon Moby Dicks. Awesome, I can deal with that.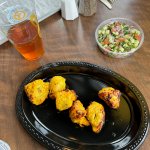 I went onto their website and found the nutritional information and it looked perfect,I am going to order a side of Joojeh Kabob (skewer), 38g P, 14g F, and 9g C. I am also going to grab a Shirazi salad, 2g P, 7g F, and 9g C. That will be a great lunch.
Even with all of the above, I am still a little short on my carbs, fat, and protein. I guess i will throw a piece of cod, 26g P, on the grill to add to dinner, and i might add a piece of Moby Dicks naan at lunch, well not a whole piece of flatbread its 42g C, but if i do half, 21g C, I have nailed my macros for the day.
I am happy, I am going to be able to eat with my friends and still hit my macro goals. All that is left now to do is make it happen. Wish me luck!