How to Hit Your Protein Goals Without Supplements
Getting through the Protein Puzzle can be a challenge for some people. If you're finding it hard to hit your protein goals, don't worry – we've got you covered! This blog post will discuss five easy ways to boost your protein intake without supplements, or protein shakes four times a day. So we've got you covered whether you're looking for quick and easy breakfast ideas or snacks to help you power through your day. Thanks for reading!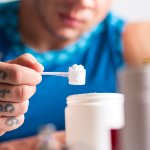 Bodybuilding and other competitive athletes often need up to 200 grams or higher of protein per day to support their active lifestyles. While this figure can be reached through supplements like protein powders, it is possible to reach this target solely through a balanced, nutritious diet. Remember the function; protein rebuilds muscle tissue. Healthy foods such as lean meats, dairy products, eggs, legumes, nuts, and seeds can provide the necessary high-quality protein to fuel an athlete's performance and recovery. You do not have to do a massive protein shake at the end of the day to get adequate protein.
Constructing a Balanced Diet with Protein at its Core
To optimize your body's protein uptake after exercise, consider portioning your protein intake over the day instead of one large dose. To add variety to your meals and snacks, use the National Nutrient Database to search for high-protein options within each food category. You can easily track and vary your protein sources to get the best results.
Jump-Start Your Morning with Protein-Packed Breakfast Choices
Reach Your Protein Goals with a High-Protein Breakfast! Eggs are a great source of protein: two large whole eggs provide over 12 grams and adding three or four extra egg whites ramps up the total to over 20 grams. Consider topping your dish with an ounce of cheddar for an additional 6 grams, and serve it with a 4-ounce ham steak for 22 more grams. An egg-based breakfast like this can get you close to 50 grams of protein before you even start your day!
Other options:
Greek yogurt
Skim milk
Breakfast sausage
Turkey Bacon
Low fat cottage cheese
Peanut butter and other nut butter
Enjoy a Range of Nutritious and Filling Midday Meals with High Protein Food
Boost Your Protein Intake with High-Protein Meals! Lunch and dinner provide ample opportunity to increase your daily protein intake. For example, a cup of roasted chicken breast can add 43 grams of protein to your meal, while a single small breast can bring 26 grams. Incorporating dairy products such as milk, cheese, and yogurt increases the protein content. Don't forget legumes such as peas, beans and lentils; they are an excellent source of surprisingly high amounts of protein. Quinoa is a complete protein because it contains all the essential amino acids needed. The seed (most people think it's a grain) is packed with about 8 grams of protein per cup.
Get Your Protein Fix With a Mid-Day Meal!
Grilled Chicken Breast
Greek Yogurt
Nuts and Seeds
Quinoa
Hummus and Veggies
Tuna Salad Sandwich
Hard Boiled Eggs
Edamame
Nourish Your Body with a Delicious and Healthy High-Protein Dinner
Dinner is the optimal mealtime to focus on high-protein foods, as you'll have more time and flexibility to prepare the meal. Try using proteins like salmon, mackerel, trout, herring, or pike, which all come with a hefty serving of protein – a 5-ounce fillet can contain over 30 grams of protein! And don't forget to add some nutritious and delicious side dishes for an extra boost. Beans rarely receive the credit they deserve for their impressive protein (and fiber !) content. For example, one cup of garbanzo beans or black beans offers 14 grams of protein and about just as much fiber, a nutrient most of us need more of. Like supplements and seeds, beans are easy to incorporate into your daily grub. Add a handful to your salad at lunch, snack on hummus, or swap traditional pasta for noodles. Want the rockstar of fish? Try Atlantic Cod, which has lots of protein and your daily recommended allowance of Vitamin B12.  Here is how I make my infamous Chuck's Chicken.
Feasting on High Protein Dinners!
Lean beef, pork, lamb, and other meats
Poultry
Shellfish, such as shrimp or crab
Soybeans
Baked Beans
Lentils
Cheese and Broccoli
Whole grains
Cheese and dairy products
Garbanzo beans
Satisfy Your Cravings and Stay Energized With Protein-Rich Snacks!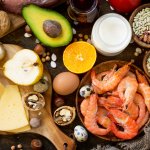 If you're not a fan of large meals, you can still reach your protein goals by snacking throughout the day. Nuts and seeds are great high-protein snacks that are sometimes hard to incorporate into large meals – for instance; pumpkin seeds come in at about 9 grams per quarter cup, and almonds at 16 grams per half cup!
Try These High-Protein Snacks For a Satisfying Boost!
Nut Butter
Quinoa
Biltong
Hemp Seeds
Protein Smoothies
Nuts
Sunflower seeds
Hummus
Cottage cheese
Cheese
Low-fat milk or chocolate milk
Fuel Your Performance and Reach Goals With Nutrient-Dense Foods for Optimum Nutrition!
Make Sure You Give Your Body Everything It Needs With Balanced Meals of Protein, Carbs, and Fats! To maximize your performance level and reach your goals while maintaining a balanced diet, pick nutrient-dense foods to get the most nutrition bang per calorie. Try choosing whole grains, nuts, and avocados instead of highly processed items like chips or sugary snacks. As you continue your journey towards health and fitness, it will become easier to make those wise choices that boost nutrition with every bite.
What is your favorite protein snack?
Bonus Recipe
Honey Greek Yogurt Parfait
Prep time: 5-minutes | Cook time: 0 minutes | Serves 2
Ingredients
2 cups nonfat plain Greek Yogurt
Two tablespoons creamy unsweetened peanut butter
One tablespoon honey
One teaspoon of vanilla extract
1 large sliced banana
1/2 cup granola
Prep:
Mix the yogurt, peanut butter, honey, and vanilla in a medium bowl. Stir until completely combined and smooth.
Into each of 2 airtight containers, place a heaping cup of yogurt topped with half a banana and two tablespoons of granola and seal.
Store the airtight container in the refrigerator for up to one week.
Per Serving (1 parfait)
Calories: 343 | fat: 15.9g | carbs: 53.1g | protein: 31.3g